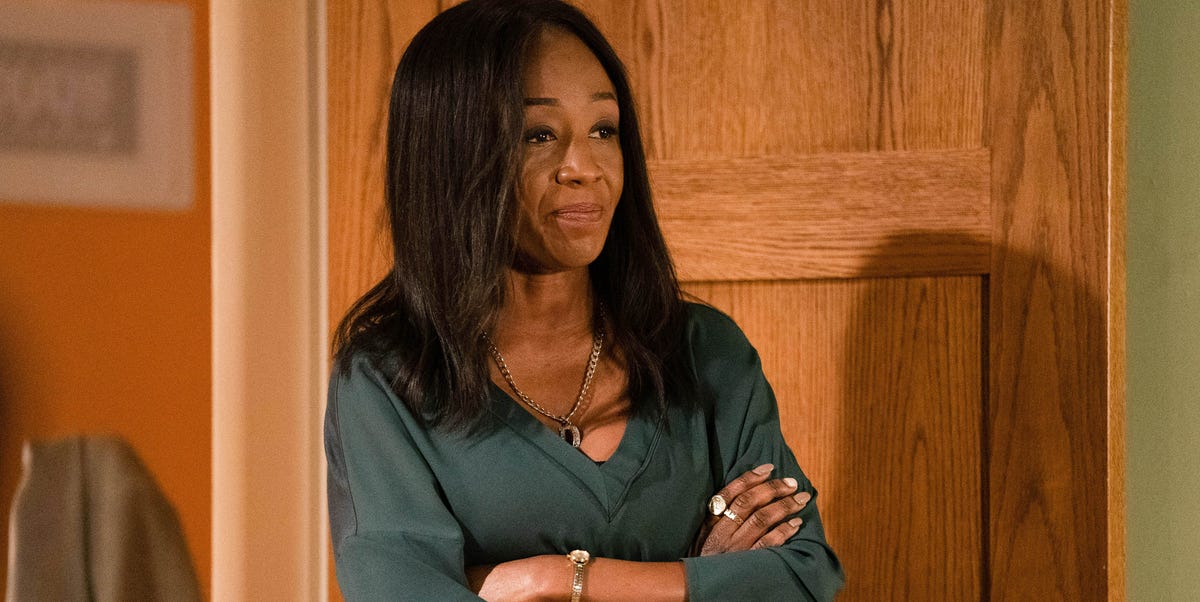 Denise Fox death fears and more soap spoilers
Soap spoilers follow. Struggling to keep track of the constant stream of soap spoilers? Fear
Soap spoilers follow.
Struggling to keep track of the constant stream of soap spoilers? Fear not, as every Monday Digital Spy picks out the biggest and best storylines hitting your screens in the week ahead.
1. EastEnders: Has Lucas killed Denise?
(Thursday at 7.35pm on BBC One)
Chelsea pushes on with her plot to rope Lucas into carrying drugs over the border, unaware that he knows what she's up to. However, things start to unravel when her dad points out that he can't fly out to Ibiza because of his criminal record. Determined to have her own way, Chelsea assures him that she has sorted all the paperwork, but as the taxi arrives to take them to the airport, Lucas refuses to go.
Overhearing the commotion, Denise is raging with Lucas for seemingly letting their daughter down again and launches a tirade of abuse and hurt at her ex. Her tough words cut deep, and unable to contain himself, Lucas finally snaps.
Moments later, neighbour Vinny raises the alarm with Jack and Chelsea and the trio rush to the flat only to find the place trashed, traces of blood and no sign of either Lucas or Denise. What has he done with her?
2. Coronation Street: Billy and Paul in turmoil as Summer is mowed down on the Street
(Monday at 7.30pm and 8.30pm on ITV)
Paul has his day in court and is relieved when he's let off with a community order. But meddling Todd is determined to cause even more carnage as he instructs Will to break into Billy and Paul's flat.
The teen does as he's told and sets about trashing the place, only to be interrupted by Summer – who flees the scene and runs straight into the path of an oncoming car. With Summer left sprawled on the cobbles, Craig is called to investigate.
Later, Billy is seething when Paul is forced to admit Will was behind the break-in and rails at him for bringing the lad into their lives. At the same time, Todd secretly meets with Will and slips him £50 for his services.
With their relationship now on the verge of collapse thanks to Todd's scheming, Paul is heartbroken when Summer returns from hospital and Billy still refuses to forgive him. He heads to the pub to drown his sorrows, where Todd finds him sitting alone.
As Paul breaks down and admits he fears he's about to lose everything, Todd can't help but feel a pang of guilt for causing so much misery. However, the damage has already been done as Paul and Billy ultimately go their separate ways.
3. Emmerdale: Mac and Jamie's feud turns deadly
(Thursday at 7pm and 8pm on ITV)
The battle between Butler's and Home Farm is raging on and Mack is on a mission to get his own back on the enemy. Soon an opportunity presents itself when he overhears Kim and Jamie talking about Greg, a potential new client, and he hatches a plan. Oblivious Jamie falls straight into Mack's trap and meets up with an imposter client – even offering to let 'Fake Greg' take a look at the Home Farm business accounts.
Later, the penny drops. As angry Kim lays into her son for being so easily fooled, Mack and Moira are victorious, having got one over on the Tates. Jamie refuses to take the humiliation lying down, though. He storms over to Butler's armed with a canister of petrol.
Arriving at the farm, Jamie heads to one of the barns and begins splashing the flammable liquid about, unaware that little Kyle is playing hide and seek inside the building. Is tragedy about to strike?
Jamie is forced to face the consequences of his dangerous actions later when Moira turns up at his door wielding a shotgun. Proving she means business, the steely Scot points the firearm towards Jamie and pulls the trigger…
4. Hollyoaks: George tightens his grip on John Paul
(Tuesday at 7pm on E4 and Wednesday at 6.30pm on Channel 4)
John Paul's cage is rattled when George's ex Dean returns to the village with renewed determination to win back his former boyfriend. With his paranoia building, the teacher goes drinking with Courtney and ends up leaving a jealous voicemail on George's phone – making out that he has hooked up with James.
The morning after the night before, John Paul is mortified when George plays him the drunken message – and things go from bad to worse when Dean refuses to go quietly. George goes to see Dean and makes it clear he's with someone else, but is consumed with envy when he sees John Paul talking with James.
After taking his chance to play the victim in front of the McQueen clan, the cunning cop decides to use Dean to get back at John Paul. George's manipulative mind games leave John Paul in turmoil, but Dean is fuming to realise he has been played and tells Courtney about the PC's abusive past, warning her that JP will be his next victim.
Worried for his safety, Courtney tries to alert John Paul, but their conversation is overheard by George, who decides he'll have to silence her.
5. Neighbours: Hendrix loses big to Kane
(Monday at 1.45pm and 5.30pm on Channel 5)
With his debt to Kane hanging over his head, Hendrix decides to partake in another game of blackjack to try and win enough to pay him back. But when Kane raises the stakes – offering to clear the slate if he wins, but take Number 24 if he loses – Hendrix takes a huge risk by accepting the dangerous deal.
Unfortunately the gamble doesn't pay off and Hendrix is defeated, forcing him to hand over the keys to a house he doesn't even own. While the terrified teen panics over Kane's next move, cash-strapped Nicolette finds herself drawn in by the Erinsborough baddie when he suggests blackjack might be the perfect solution to her settling her own debt with Ricardo.
As she mulls over the enticing offer, Nicolette is horrified to discover the mess Hendrix has got himself in with Kane. He promises he has got it all covered and will ask Pierce to help pay Kane off, but Nic isn't so sure. She gives him 24 hours to fix things otherwise she's calling his dad.
6. Emmerdale: Laurel's back on the booze
(Monday and Tuesday at 7pm on ITV)
As heartbroken Laurel struggles to cope following her termination, she finds herself tempted by a bottle of vodka in the cupboard. Trying to fight her demons, Laurel goes to pour the spirit down the sink, but when an alert from a pregnancy app pings on her phone, reality bites hard and she ends up knocking back a glass – just as Nicola walks in to catch her.
Having fallen off the wagon, Laurel decides it's time she was honest with her best friend and opens up about her termination for the first time. Nicola is devastated to discover the extent of Laurel's suffering. Concerned for Laurel's wellbeing, she rings Jai for help.
Jai comes straight over and tries to calm Laurel by reminding her that he understands exactly how she's feeling. Will his reassurance stop her reaching for the bottle again?
7. Coronation Street: Asha and Nina grow closer
(Wednesday at 7.30pm and 8.30pm on ITV)
Asha's first trial shift at the café is interrupted by the arrival of Corey, who wants her to hear him out. But she doesn't want to know and tells the teen they're finished as Nina watches on, impressed by her no-nonsense attitude.
Later, Asha and Nina's eyes meet while they're clearing up the café together, just as Roy unknowingly interrupts the intimate moment and tells Asha she has got the job.
Unable to deny their growing attraction, the girls arrange a date together in Victoria Gardens. When Dev sees his daughter getting ready he assumes she's all dressed up to impress a lad, but is left speechless when Asha reveals she's going out with Nina.
Wanting her dad to be cool about her choice of partner, Asha invites Nina round hers for tea, but Dev is still struggling to get his head around the budding romance. However, some words of reassurance from Roy help make him realise he needs to make Nina feel welcome at Number 7.
8. EastEnders: Max outs Sharon's secret
(Monday at 8.05pm and Tuesday at 7.30pm on BBC One)
Ian is still missing after narrowly escaping death by Sharon's spaghetti carbonara, and Max is determined to get to the truth. As he edges closer to discovering who attacked the unpopular businessman on Christmas Day, Linda alerts Sharon. Although panicked, she thinks on her feet and cleverly makes out that Max is only trying to prove Tina didn't do it in a bid to win Linda back.
Later in The Vic, Max is gutted to see Mick and Linda back together, and tension is brewing when Bobby and Kathy arrive to hand out missing person flyers to the punters. A stand-off between Sharon and her mother-in-law quickly ensues, leading Max to make a shock announcement to the entire pub. He declares that Tina is innocent and it was Sharon who bashed Ian's brains in.
As the locals reel from the bombshell, and Sharon desperately tries to clear her name, Mick can't shake off the feeling that something terrible has happened to Tina. If only he knew…
9. Hollyoaks: Cleo rushes to Toby's rescue
(Thursday at 7pm on E4 and Friday at 6.30pm on Channel 4)
Toby's ordeal continues as Dr Ley refuses to let him out of The Loft, hoping to provoke a reaction from him that'll provide enough material for her second book. Meanwhile, Cleo is puzzled about Toby's whereabouts, and when Celeste lets slip that her brother is being treated by Dr Ley, she decides to look her up online.
A quick search later, and alarm bells are ringing when Cleo then sees the same Dr Ley standing right outside The Loft. Fearing the worst, Cleo steals Celeste's keys to the club and is horrified to find Toby stuck inside the makeshift jail Dr Ley has set up.
Begging him to leave, Cleo assures Toby there are lots of people who care about him, just as she does. But will he find the courage to free himself from Dr Ley's clutches?
(Tuesday at 1.15pm and 6pm on Channel 5)
As the day of Colby's trial arrives, Dean is filled with regret about letting him take the fall for killing Ross Nixon. And as proceedings get under way, it's not looking good for the cop when the prosecution are granted permission to play a recording of him confessing to murder.
Colby's loved ones try to remain upbeat, but they're dealt another crushing blow when the mysterious Witness X is revealed to be his close friend Willow, who steps forward to testify against him. Her shock betrayal rocks Colby to the core as he struggles to understand her motives, but Angelo is ecstatic that everything is working out just as he'd planned.
In a surprise turn of events, Colby asks to take the stand and confesses to the courtroom that he did in fact kill his abusive stepdad. The admission of guilt seals his fate and Colby's supporters can only look on in horror as he's led away to begin a 25-year sentence in the slammer.
The fallout continues back home, and following a run-in with Bella and Dean, outcast Willow packs her bags and leaves the Bay. But there could be a happy ending for Taylor and Angelo as the estranged couple agree to try and put the Colby business behind them and look to the future.
---
Digital Spy now has a newsletter – sign up to get it sent straight to your inbox.
Read more EastEnders spoilers on our dedicated homepage
Want up-to-the-minute soaps news, spoilers and gossip on your social feeds? Just hit 'Like' on our Digital Spy Soaps Facebook page and 'Follow' on our @soapscoop Twitter account.
This content is created and maintained by a third party, and imported onto this page to help users provide their email addresses. You may be able to find more information about this and similar content at piano.io